Stars 'n Stripes Pillow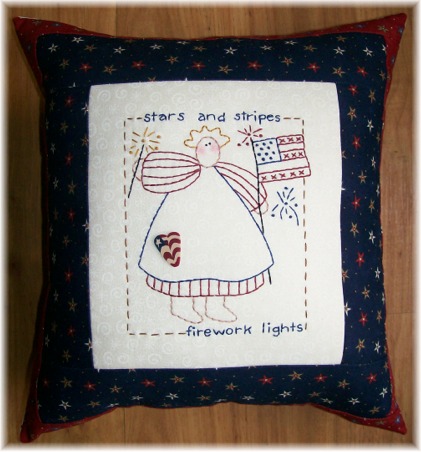 "Stars and Stripes...Firework Lights"
Design from Calendar Quilts & Stitcheries by Art to Heart.
Middle background fabric is cream with little swirls and stars. The inside border fabric is navy with primitive stars, and the outside border fabric is red with primitive stars. The pillow is backed in a coordinating primitive star print on cream. Cute flag heart button on girl's dress.
Approx. Size: 14" x 16"
*Fabrics may vary from picture above depending on availability. If new fabrics and/or buttons are used, you will be notified before shipment.*
Pricing
| Description | Price | Order |
| --- | --- | --- |
| Stars 'n Stripes Stitchery Pillow | $24.50 | |



Belinda Pedersen / Owner
1031 N. 500 W.
Orem, UT 84057

Home | Mini Quilts | Hangers | Home Decor | Patterns | Buttons | Stitcheries
Americana | Spring | Fall | Christmas | Quilt-A-Month Club
Guestbook | Printable Order Form | Shipping | Contact Us
View Cart | Check Out


All contents of this website are property of Patchwork & Paint.
© 2002-2008 Patchwork & Paint - All rights reserved.
Site Design by Just Heavenly Creative Design