"Happy Holidays To You"
by Art to Heart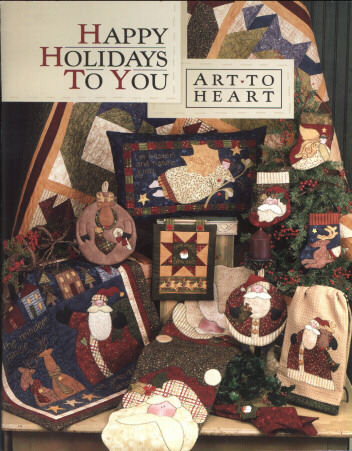 *click on picture to view larger*
It's the most wonderful time of the year! You can create a festive mood in your home with this charming collection of holiday projects. Projects include mini Christmas stockings, wreath in window quilt, wreath pillow, Santa & Rudolph tea towel, Holly Jolly Santa table runner, Up On the Roof Top quilt, Santa & Rudolph pot holders, Heaven & Nature Angel pillow, mini patchwork quilts, Holly Jolly Santa place mat, Christmas from A to Z quilt, Heaven & Nature Angel stitchery, Happy Holidays aprons, Holly Jolly napkin rings, and napkins!
37 pages, including 6 in color

Also available: "Up on the Roof Top" Quilt Button Kit (This is the large quilt on the left side of the picture above.)
Pricing
Description
Price
Order
"Happy Holidays To You" by Art to Heart
$18.00
"Up on the Roof Top Quilt" Button Kit
$6.75

*out of stock*



Belinda Pedersen / Owner
1031 N. 500 W.
Orem, UT 84057

Home | Mini Quilts | Hangers | Home Decor | Patterns | Buttons | Stitcheries
Americana | Spring | Fall | Christmas | Quilt-A-Month Club
Guestbook | Printable Order Form | Shipping | Contact Us
View Cart | Check Out


All contents of this website are property of Patchwork & Paint.
© 2002-2017 Patchwork & Paint - All rights reserved.
Site Design by Just Heavenly Creative Design