"Easy Does It For Christmas"
by Art to Heart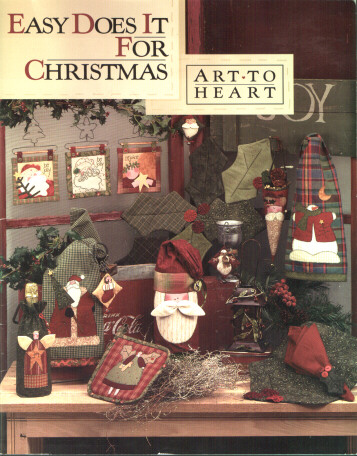 *Click on pictures to view larger*
The Christmas season is a festive & busy time of year! This book has 25 projects designed to help you make quick & easy gifts and decorations from the heart to share with family and friends. 28 pages.

"Easy Does It for Christmas" Button Kits also available. Set of 11 buttons.
Pricing
| Description | Price | Order |
| --- | --- | --- |
| "Easy Does It For Christmas" by Art to Heart | $16.00 | |
| "Easy Does It for Christmas" Button Kit | $10.50 | |



Patchwork & Paint
Belinda Pedersen / Owner
1031 N. 500 W.
Orem, UT 84057
(801) 376-8152

Home | Mini Quilts | Hangers | Home Decor | Patterns | Buttons | Stitcheries
Americana | Spring | Fall | Christmas | Quilt-A-Month Club
Guestbook | Printable Order Form | Shipping | Contact Us
View Cart | Check Out


All contents of this website are property of Patchwork & Paint.
© 2002-2010 Patchwork & Paint - All rights reserved.
Site Design by Just Heavenly Creative Design