"Easter Bunny" Framed Stitchery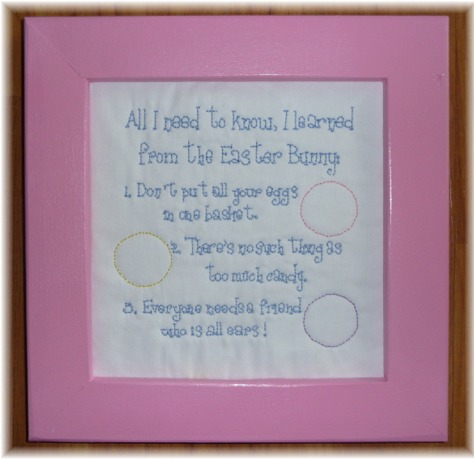 This Easter stitchery reads, "All I need to know, I learned from the Easter Bunny: 1. Don't put all your eggs in one basket. 2. There's no such thing as too much candy. 3. Everyone needs a friend who is all ears! Quote embroidered in blue, and adorned with three cute stitched polka dots in yellow, pink, and purple.
Framed in your choice of pink or purple. Sawtooth picture hanger included on back.
Size: 10" x 10"
$18.95
CLEARANCE $9.95
"Easter Bunny" Stitchery - Pink Frame

*1 available*

"Easter Bunny" Stitchery - Purple Frame

*1 available*