"Chocolate" Stitcheries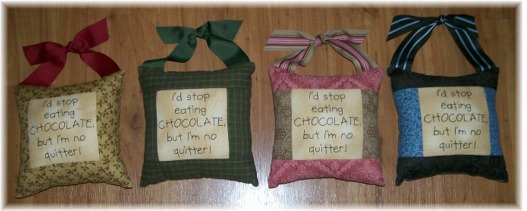 This stitchery will bring a smile to any "chocolate lover"! Pillow available in 4 different styles: Tan Floral, Olive Green, Pink/Brown, and Blue/Chocolate Brown. Framed stitchery available in burgundy, cream, or black frame. Coordinating ribbon hanger for easy display.
Approx. Pillow Size: 8 1/2" x 8 1/2"
(approx. 16" high with ribbon)
Framed Stitchery Size: 9 1/4" x 11 1/4"
(size is of frame only - does not include ribbon hanger)
Tan Floral "Chocolate" Stitchery Pillow

$14.95

Olive Green "Chocolate" Stitchery Pillow

$14.95

Pink/Brown "Chocolate" Stitchery Pillow

$14.95

Blue/Chocolate Brown "Chocolate" Stitchery Pillow

$14.95

*Picture Coming Soon!*

"Chocolate" Stitchery in Burgundy Frame

$14.95

"Chocolate" Stitchery in Black Frame w/Burgundy Ribbon

$14.95

"Chocolate" Stitchery in Black Frame w/Sage Green Grosgrain Ribbon

$14.95

*1 available*

"Chocolate" Stitchery in Cream Frame w/ Lime Green Ribbon

$14.95

"Chocolate" Stitchery in Cream Frame w/ Sage Green Grosgrain Ribbon

$14.95

*1 available*